Speakers
This event brings together over 30 speakers, eager to share their knowledge, experience and predictions. Our speakers are carefully handpicked based on their experience and contributions to the industry to date. Real life case studies from the biggest and most profitable companies will allow you to learn from their successes. You will leave the Summit with a future proof strategy for growth that will see you ride through the turbulent times ahead!
2012 Speakers Included
Meet speaker: Pierre Dechamps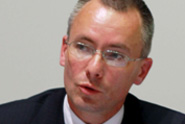 Dr Pierre Dechamps holds an electro-mechanical engineering degree from Liège University, a Master of Science from Cranfield University and a PhD from Liège University. He worked for 5 years as an assistant in Liège University, in the power generation department. He then joined the industry, CMI, Cockerill Mechanical Industries, one of the world leading heat recovery boiler manufacturers for power stations, where he quickly became the Head of the R&D Engineering Department. From 1998 to the end of 2007, he worked for 10 years for the European Commission Directorate General for Research as project officer for clean coal technologies and later on for CO2 capture and sequestration. In January 2008, he joined the Bureau of European Policy Advisers to President Barroso as the adviser for energy, climate change and the environment.
Pierre Dechamps is appearing in